"So comfy it felt like I was staying at a friend's house! Room and bath were pristine. Slept well in a great bed with lovely linens."
—Guest on Booking.com
Upstairs from the restaurant are our two rooms: your choice of ocean-view or village-view Mendocino lodging. Both of our rooms are cute, clean, and cozy, where you can sleep in comfort in a queen-sized bed with quilts. Our third room (Bay View) is not available at this time as it was not possible to offer a private bath. We are located in the village of Mendocino on California's north coast, an ideal place to stay in the middle of a beautiful natural region with beaches, parks, and artisan boutiques. Both rooms have WiFi! We look forward to having you stay with us!
Mendocino Bay and the Pacific Ocean as seen from our Ocean View room
$150/night plus 11% local bed tax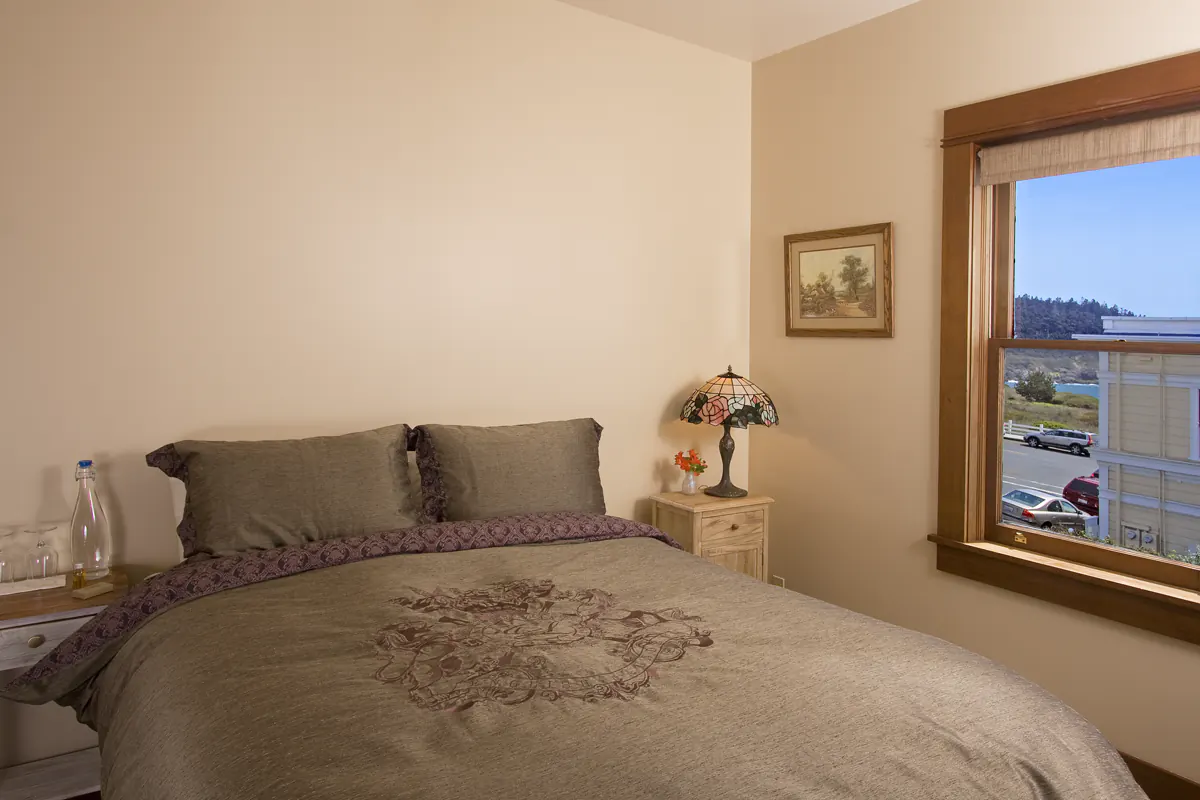 Ocean View Room Queen Bed
Ocean View Room Sitting Area
Private Bathroom down the Hall
Simple and comfortable, this is our most beautiful room. You will wake up in the morning to a perfect ocean view to the west; you won't even have to get out of bed. The room has west and south facing views of the Pacific and our Big River Bay, as well as being perched above our flower garden. The private bathroom with shower-tub is down the hall. See More in our Lodging Details.
En-suite Bathroom with Shower

Village View Room Corner Table Sitting Area

Trillium Entrance into Restaurant with Lodging Upstairs
Our Village View Room is cute and simple and the perfect spot to look eastward out over the town while lying in bed reading. This room has a table, and because it has an in-room bathroom with shower it ends up being our most popular room. See More in our Lodging Details.
Assistance for our Guests: We are happy to help guests with requests or ideas for things to do in the area. Please let us know if you need anything prior to or during your stay. Our staff is always happy to help with anything.
Guest Access: Guests will be provided with keys for the front door downstairs and room keys for upstairs upon check-in.
Check In & Check Out: Check In time is after 3:00, but don't hesitate to ask for an earlier Check In; we are happy to accommodate with advance notice. Check Out time is 11:00 am.
Amenities: Both rooms have Wifi. Our rooms are all non-smoking. We have coffee pots in our rooms. The restaurant does not serve breakfast. Breakfast is not included or offered to the guests.
Children: We are unable to accommodate babies or toddlers. Our windows aren't safe for small children, and the stairs are steep. The rooms are also very close together, and we don't want to bother other guests with loud babies. We do love kids, we have three ourselves; we just want to ensure all our guests have the opportunity to enjoy a peaceful experience.
Pets: We are only able to accommodate service dogs. With the restaurant downstairs it would be a health code violation to have animals.